The remodelling project on the new Bernabéu continues at pace following the club's decision to play all of this season's remaining games at the Alfredo Di Stéfano stadium in Valdebebas, once competition resumes. In the photographs published in today' edition of AS, it's easy to see how work is advancing in the interior of the stadium. We can see how the lower tier of the south stand, where the Grada Fans usually are seated, has been completed lifted with all of the seating and plastic screens now gone and the area occupied by cranes and diggers. It's clear that the lower tier will be completely transformed and will look totally different once work has finished.
Looking at the corners of the ground and the stand which backs onto the Castellana, the blue seating has been lifted from the third and fourth tiers, ready for new seating to installed. The stadium will undergo a complete revamp,and be modernized inside as well as outside. The canopy which used to cover the north stand has now gone and nothing remains of the roofing which used to cover the corners of the stadium – that was taken down when work commenced exactly one year ago this week.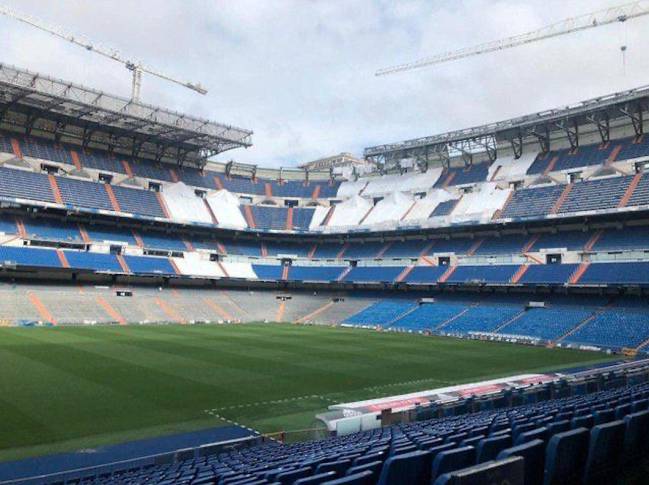 All of the work which is ongoing now had originally been scheduled to start in May when the season would have ended had it not been for the coronavirus pandemic. Today, Madrid would have hosted Villarreal in the penultimate game of LaLiga had the competition not been postponed for the crisis. That goes to show how much of the domestic season we have missed but also how work has progressed of the inside of the Bernabéu, gaining time ahead of the original deadline. The dream of a new, state-of-the-art Bernabéu is getting closer – and who knows? it could even be ready by the start of 2022.