PSG forward Kylian Mbappé, who has confirmed he will remain at the Parc des Princes for another season, suffered an injury that may keep him out of the Champions League final eight tournament in Lisbon during the Coupe de France victory over Saint Etienne. While the short-term implications of the France striker's injury for the Ligue 1 champions could be significant, Real Madrid will remain on hold for another year as they attempt to carry out their medium-term plan of snapping up Mbappé to spearhead Zinedine Zidane's side into the 2021-22 season.
With the Liga season over, Real Madrid freshly crowned champions and Zidane's side also still in the mix for the Champions League, there are reasons for the Bernabéu board to be optimistic that they can make Mbappé their latest world record signing in 12 months' time.
Mbappé's PSG contract on hold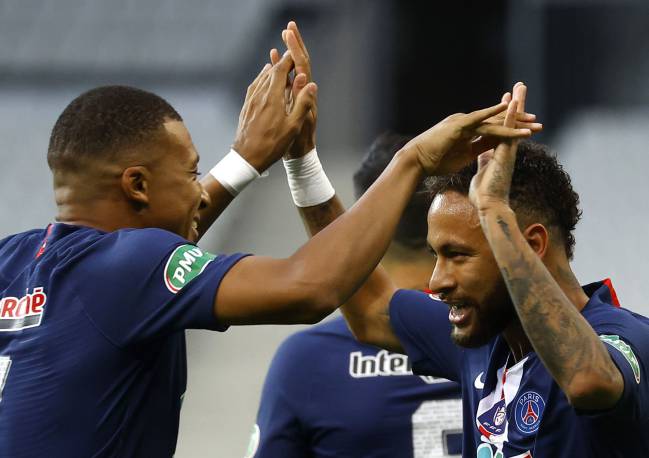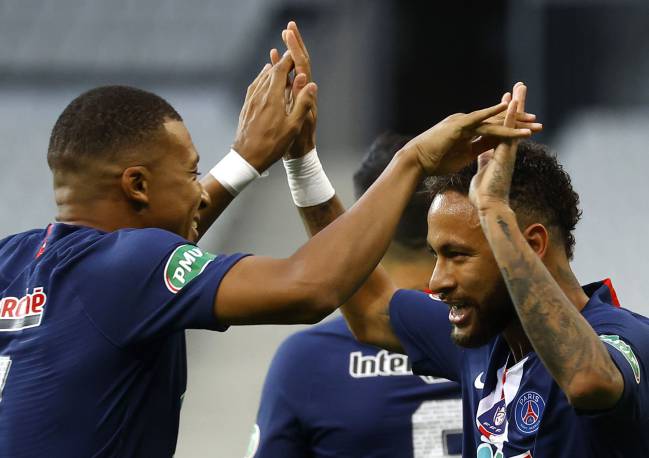 PSG have tabled several offers for Mbappé to renew his contract beyond its current expiry date of June 2022 but the France forward has not yet put to pen to paper on an extension. Mbappé said a few days ago that he would remain at PSG for another season at least: "I am here in Paris and I want to be part of the project," the young star said. "I will be at PSG next season and I will try to win as many titles as possible."
That plays into Madrid's hands as the Bernabéu board's plan is to make their move next summer, when PSG will be obliged to cash in on their prized asset or risk losing him for nothing when his contract expires the following year.
Release clause
While there is no guarantee that Mbappé will not be persuaded to extend his stay at the Parc des Princes beyond 2022, there have been suggestions that the 21-year-old could seek to insert an agreement into a new deal allowing him to leave for another European club if his release clause is met. The problem for Madrid in this scenario is that the cost of the operation could skyrocket at a result. PSG will be only too aware of how they can work that to their advantage, having met Neymar's astronomical €222m Barcelona release clause to bring the Brazilian to Paris in 2017.
PSG looking to trim squad salaries
Even before the coronavirus pandemic, European clubs were looking at a period of belt-tightening in line with Financial Fair Play regulations. Manchester City's successful appeal against a two-year ban from European competition may have shifted the goalposts somewhat in that respect but PSG are also under the microscope and have been forced to sell youth team players to keep UEFA from the door.
Mbappé earns €20.8m a season at PSG, less than some of his teammates and considerably so in the case of Neymar given that he signed his contract at the age of 19. He would be unlikely to look favourably on a wage cut in Paris and Real Madrid could at least match his current wage: the Bernabéu's two highest-paid players are Sergio Ramos and Gareth Bale, who each earn €14.5 per year.
The Real Madrid marketing machine
Although Madrid could not offer a significant increase on Mbappé's salary, the Liga side hold the advantage of being a marketing phenomenon and the France star could expect a significant amount of Madrid's global reach to be dedicated to him. Normal procedure at Madrid is to split marketing revenues 50-50 with players but there are exceptions when the club is willing to hand a larger cut to a new signing to ensure their arrival.
Ballon d'Or
Mbappé, as is generally the case, knows that he needs to be playing at one of the world's most recognizable clubs in order to increase his chances of winning the Ballon d'Or. Even when he won the World Cup with France in 2018 on top of a domestic treble he finished a distant fourth in the voting behind Luka Modric, Cristiano Ronaldo and Antoine Griezmann.
Winning the Champions League is a passport to the biggest individual prize in the sport and PSG have not been beyond the quarter-finals. Madrid have in recent years provided their players with a certain guarantee of success.
Real Madrid's youth policy
Real Madrid have followed a policy of snapping up the best young talent across the globe in recent years to build a side for long-term success. Meanwhile, PSG's academy has been cherry-picked and several of the side's older stars are leaving (Edinson Cavani, Thiago Silva) while there is little appetite at the Parc des Princes for statement signings like Neymar in the near future. Even the Brazilian may not be at the club beyond 2021 and Mbappé may see a brighter future elsewhere.